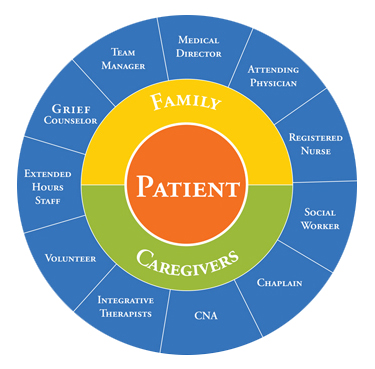 Patient's Attending Physician
Continues to evaluate and direct your care through your Hospice nurse and, if warranted, by office visits.
Hospice Medical Director
A physician who attends Hospice team meetings and assists staff in managing and following your care plan according to your wishes and your physician's orders. The Hospice Medical Director can consult with your physician on medical care issues.
Hospice Nurse
Assesses the patient's physical needs; manages pain and disease symptoms; provides instruction on specific care issues and care giving techniques; evaluates present and potential problems; and acts as a liaison between the physician, family and other Hospice team members.

Contact Us for a Free Consultation
Hospice Social Worker
Assesses the emotional and practical needs of both patient and family; helps to coordinate additional Hospice services; helps both patient and family cope with the illness and prognosis; makes appropriate referrals to community resources; addresses financial concerns related to the illness and prognosis; and assists with finding alternative care if and when needed.
Spiritual Counselor
Supports both the patient and family in coping with emotional pain and spiritual issues; can act as liaison between All American Hospice and your spiritual leader.
Hospice Aide/Homemaker
Provides personal care for patient: bathing, dressing, shaving; providing mouth, skin, hair, and foot and nail care; helping with ambulation, positioning and transfer; assisting with toileting; maintaining clean, safe patient area; preparing a light meal and/or feeding; and assisting the patient in taking self-administered medications.
Patient Care Volunteer
Provides companionship and emotional support for both patient and family. Can assist patients with errands and provide respite—enabling the caregiver or family to rest or to pursue errands or activities outside the home.
Physical, Occupational or Speech Therapist
Available to facilitate mobility, safety and communication issues.

Dietary Counseling
As needed can assist with special dietary or nutritional concerns working with the hospice nurse.
Bereavement Counseling
Assists the family members, caregivers and significant others in coping with issues related to loss both before and after the death of their loved one for a period of 13 months by a variety of means including mailings, visits, phones calls and support groups.