Once a patient, family member, friend, or attending physician requests hospice, the patient's needs will be determined and a care plan created specifically for that patient by our hospice physician and hospice nurse. Each patient will get the appropriate level of hospice care depending on those needs. However, hospice patients may move between levels of care depending on their most immediate needs. Our goal is to ensure that no patient, or family member, is ever left alone in a crisis.
Under Medicare Hospice Benefit, the most basic level of care is referred to as routine home care or routine nursing home care if the patient resides in a nursing home. Services provided at this level of care include:

Medications
Medical supplies and equipment
Diagnostic and lab work related to terminal diagnosis
Registered nurses who schedule visits 1-3 times a week based on patient's needs
The participation of the attending physician, the hospice physician, and any specialists involved in care
Home health aides who schedule visits 2-3 times a week
A medical social worker who assists in problem solving, coordinates available services, and lends emotional support to patients and their families
Physical, occupational, or speech therapy if needed
Contact Us for a Free Consultation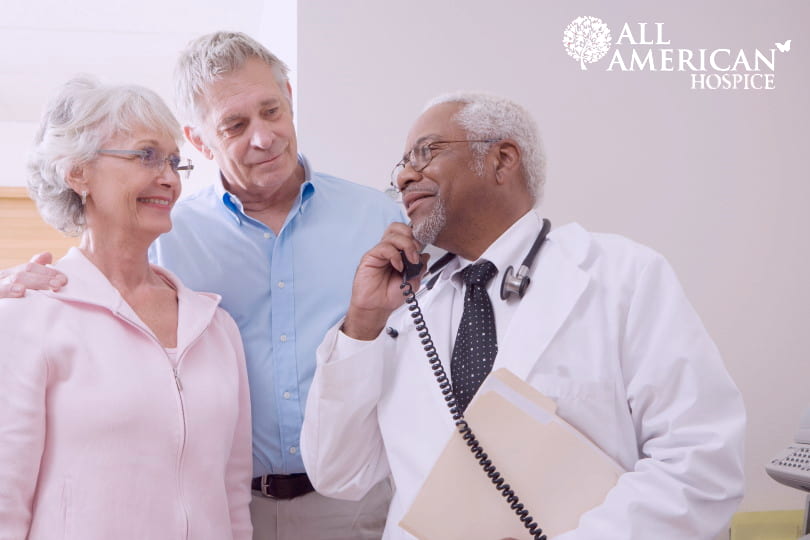 Continuous care
Continuous care is a level of hospice care when the patient is experiencing physical or emotional symptoms that extend beyond the care provided by the routine care plan. At this level of care, a nurse and/ or home health aide will stay in the patient's home for a minimum of 8 hours a day (up to 24 hours a day) until the patient's symptoms are under control. The symptoms that warrant continuous care may include severe nausea and vomiting, constant pain, panic attacks or severe anxiety, extreme shortness of breath, or a temporary breakdown in the patient's caregiver support system.
Let Us Start Taking Care of You
Inpatient care
For those patients who have symptoms so severe that they cannot get the treatment they require at home, inpatient care is provided. Inpatient care is a level of hospice care provided to patients who have been placed in a facility such as a hospital, long-term care facility, or freestanding facility. A freestanding facility is typically owned and operated by a hospice company. Similar to the continuous care, inpatient care supports patients whose symptoms are severe and requiring constant attention. With inpatient care, nurses are available 24 hours a day to provide treatments, administer medications, and provide emotional support to the patient. Once the patient's symptoms are under control, the patient is discharged back home or to his or her place of residence.
Inpatient care and continuous care are short-term services and terminate once the patient's symptoms are controlled and the patient is made comfortable.
Respite care
Respite care is a level of hospice care offered primarily for the family of the patient. In these cases, the patient may be admitted to an inpatient facility so that the family can take a needed break from the daily stress of caregiving. This may occur when the patient does not qualify for continuous care services. Families are allowed five consecutive days of respite care at a time. After five days, the patient is discharged back home.