Comfort and Quietude: Life with Hospice Inpatient Care
Having had a lot of wonderful life years full of joy, happiness, and unforgettable experiences, we also deserve to meet our senior period in comfortable and pleasant conditions. In particular, when we are not able anymore to live completely independently. It takes us to the challenging choice of the lifestyle we have to stick to.
As a rule, the hospice inpatient unit is the perfect choice for people who've faced serious diseases at the final stage of their life. In cases where hospital accommodation is not required, and home nurse assistance is not possible, hospice inpatient care will come to help.
It is the place where your beloved ones will get everything they need to live without any problems or struggles. Hospice means community, the entity where we take care of each other. Thus, you can forget about endless worries or stress about the state of a member of your family, who needs special support in his or her everyday life.
Life in hospice guarantees that a patient will not feel the pressing atmosphere of a hospital or go through oppressive feelings of loneliness and helplessness. Below we will provide you with all of the necessary information to make sure that hospice inpatient facility is your choice.
Contact Us for a Free Consultation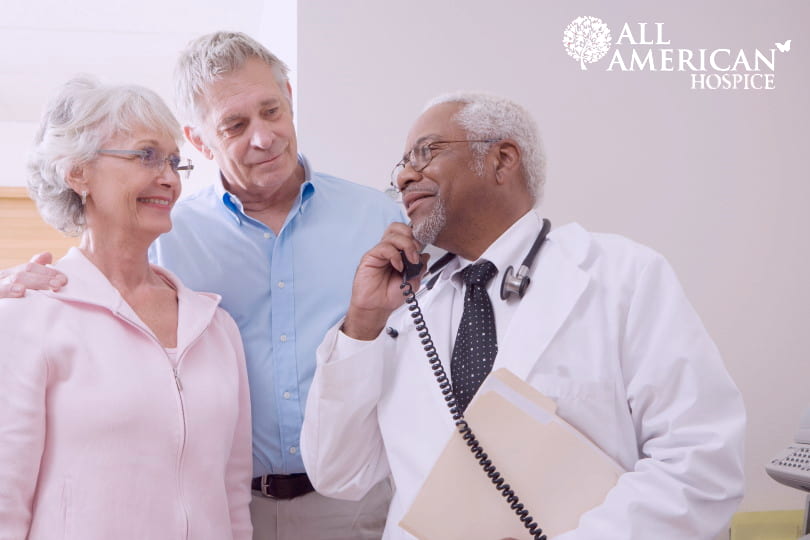 Why Is It Wonderful to Have Inpatient Hospice Care Near Me?
When looking for «an inpatient hospice near me», you need to be able to count on high standard services and facilities being offered. Requirements of this kind are completely fair, as this sphere of senior care is based on kindness, professionalism, and extreme responsibility.
If the organization you apply to is trustful, you can be sure that your beloved persons will be surrounded with attention and all the help you need. In fact, this care consists of a few main parts. They are as follows:
Worthy and comfortable living conditions
Consistent medical care
Additional services to create a safe and nice atmosphere
Opportunity to communicate with family members or other patients
Needless to say, medical facilities are one of the leading sites on the list, as all hospice patients need medical help to a greater or lesser degree. In this case, the whole clinical record of a patient is taken into consideration.
Due to skillful and reliable employees, the process of care and treatment is under constant control. Furthermore, if an emergency happens (which is a rare case but it is still significant to always be ready), the team of undoubtful professionals will take everything under strict control.
Let Us Start Taking Care of You
What Else Inpatient Hospice Facility Near Me Should Have?
Of course, the important functions of the leading inpatient hospices in Philadelphia are not limited by the medical aspect. Hospice is not a hospital; it is a place where people live and spend their time in the atmosphere of coziness. It is significant to avoid harmful depressing states and thoughts and to create only a positive experience.
As a matter of fact, it is achieved primarily by a range of additional therapy. Among them, one can call:
Pet therapy. The healing effect of communication with pets is proven.
Music therapy. Art influences health in a curing way.
Massage therapy. Not only a benefit but also a really pleasant activity.
In addition to that, normally, a lot of attention is paid to the spiritual needs of the patients. So, they have an opportunity to spend these days of their life, with all of the religious rituals and prayers they believe in.
Last but not the least is that an inpatient hospice facility implies a very flexible schedule of visiting hours, as the policy of organization means that meetings with beloved people are extremely significant for the mental calm and health of patients during all the stages of their lives.
Where Should I Look for the Right Place?
With All American Home Care, you will know for sure that you are cooperating with one of the top inpatient hospices in Pennsylvania. We provide our patients with outstanding medical services which will maintain their physical and mental health to the maximum proper condition. Moreover, we treat each client personally and try to do our best to arrange comfort and joy for them.
The final period of life is inevitable for everyone. Unfortunately, some illnesses cannot be cured. Everything happens in its due time. But the purpose we pursue is to create everything for the happiness of people who are near the end of their life. We are convinced that this end should only be associated with spectacular feelings, cheering memories, and a deep understanding of the fact that there are people here to take care of you, and they will do so up to the final stage of your life.
The experience of being appreciated and loved is one of the most healing and pleasant feelings in a person's life. We want to give it to everyone who needs it because they deserve it.