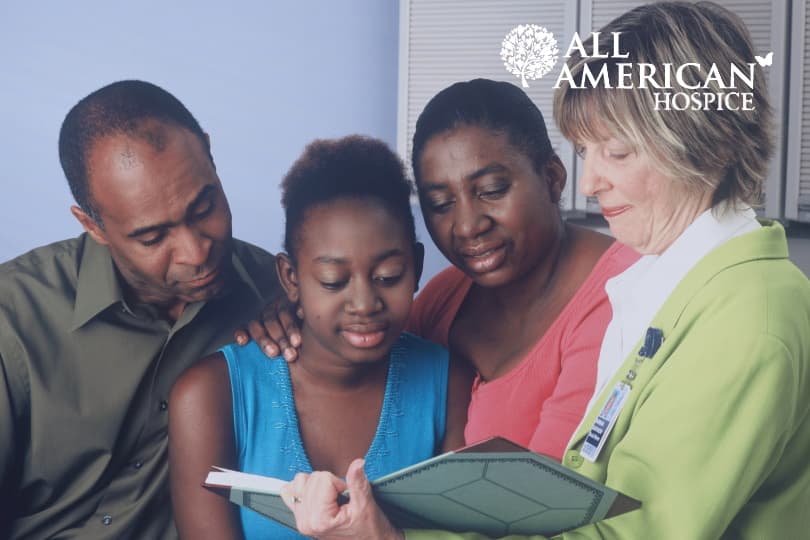 A hospice volunteer or palliative care volunteer has a vital role in hospice care during challenging times for patients and families. Usual patients who need this type of help are gravely ill or near the end of their lives.
Let Us Start Taking Care of You
Why Are Volunteer Hospice Workers Essential?
Volunteers in hospice are sometimes called "the unsung heroes." They provide their services, skills, and time to helping hospice organizations, patients, families, and nonprofit hospice institutions. For-profit and nonprofit hospice institutions rely on volunteers to carry out their critical mission and meet the community's needs.
Volunteers connect with patients and families on a deep level to provide them with overall comfort to make their journey easier. They help everyone involved to make the transition as painless as possible.
Who Are Hospice Volunteers?
Many hospice volunteers were a patient's close family who received hospice care themselves. Hospice care provided them with emotional support and treated their loved ones with respect and dignity during those difficult times. They also want to give back to the institution by volunteering and helping patients and families receive the companionship and support they need.
Other volunteers were retired health care professionals who wanted to continue giving services to the community. Although the US government requires institutions to have paid hospice employees, they expect volunteers to continue extending their services. This will continue the voluntary spirit of hospices in providing near end-of-life care.
Benefits for Hospice Volunteers
Being a hospice volunteer can be emotional. However, these people claim to have increased satisfaction levels. Younger volunteers can also use this experience to build their university applications for their resumes.
Other benefits of hospice volunteering include:

Better psychological and physical health
Increased level of self-confidence
Decreases depressive symptoms
Improved sense of well-being
A greater understanding of what is truly important to life
Hospice Volunteer Requirements
Some hospice institutions require volunteers who lost a loved one to wait for at least one year before they can participate. While other institutions will let their volunteers undergo various training to prepare them for different roles as hospice volunteers.
Below are some of the most common hospice training programs:

Understanding the philosophy and goal of hospice care
Knowing the boundaries of hospice volunteers and patient/family interaction
How to assist grieving patients and families
Understanding the needs of families, such as physical, emotional, and spiritual needs during their end-of-life journey.
Understanding the organization's services
Aside from seminars and training, below are the traits of effective volunteers:

Compassionate and understands patient's and family's feelings on their end-of-life journey
Respectful toward people's life, religion, and culture
Listening skills and keeping silent when needed
Let Us Start Taking Care of You
What Do Hospice Volunteers Do?
There are several roles of a hospice volunteer. Aside from supporting patients, families, and caregivers, they can also help the organization perform administrative tasks. Some organizations will give them roles depending on their skills, talents, and capacity.
Hospice volunteering can be categorized into two: direct care and indirect care.
Direct Patient or Family Caregiver Care Volunteers
Direct care volunteers work directly with patients, families, and caregivers. Direct care volunteers provide:
Patient Care Volunteers
The role of a hospice volunteer is more on companionship or spending time with patients instead of providing medical care. They go to where the patient lives – whether in their home, nursing home, or long-term health care facility.
Below are some of the things they do to provide patient care:

Playing with the patient in their favorite game
Talking about memories and events the patient is interested in
Preparing food for the patient
Accompanying patients on their doctor's appointment
Helping family members (caregivers) with some of their daily tasks
Informing the staff of hospice institutions about the needs of the patient and their families
Patient care volunteers are good listeners. These services are best for people who are empathetic and compassionate.
Vigil Volunteers
This hospice volunteer role provides a supportive presence during the patient's final hours. Vigil volunteers, however, should have experience in patient care and family support volunteering. They support patients and families by:

Holding the patient's hands while speaking or reading to them
Playing an instrument or singing the patient's favorite songs
Comforting presence at the patient's bedside
Reassuring caregivers and family members who cannot go and stay with the patient's final hours
Veteran-to-Veteran Volunteers
Veterans often value communication with their fellow veterans – a person who also has an experience in the military service culture. Veteran hospice volunteers:

Listen and share stories and military experiences
Help obtain missing medals of the patient
Record stories for the family's legacy
Pet Therapy Volunteers
Hospice volunteers with a calm attitude towards people and other animals can use them as pet therapy dogs. Pet owners and their pets will undergo training on interacting with patients and families.
Many studies proved that cuddling animals can increase a patient's comfort level and decrease their physical pain.
Massage Therapist Volunteers
Some hospice care facilities are looking for professional massage therapists who can provide their talents and skills to relax patients. Massage therapists can perform various massages and other therapies for patients.
Bereavement Volunteers
These hospice volunteers call families or caregivers who lost a loved one. They also remind them that the hospice institution is always there to provide support and other assistance during the grieving period.
Indirect Care Volunteering
Even if hospice volunteers do not directly care for the patient and families, they can provide their support by helping the organization with administrative, fundraising, and community outreach programs.
For example, volunteers who have experience working in the office can work as administrative volunteers. Their previous knowledge and skills can benefit the hospice organization's daily tasks. Some tasks done by an administrative volunteer include:

Answering emails and phone calls
Doing clerical and data entry jobs
Preparing brochures, leaflets, and mailings
Assisting in fundraising campaigns
Helping in outreach programs or events
Conclusion
People who want to become hospice care volunteers can choose from various hospice care providers. They help the institution, patients, families, and caregivers.
All American Hospice Care is always ready to help patients and families in their near-to-end journey. We are equipped with staff and volunteers who genuinely understand the importance of giving support to patients and families and helping them achieve a sense of dignity. If you need high-quality hospice services, please give us a call.