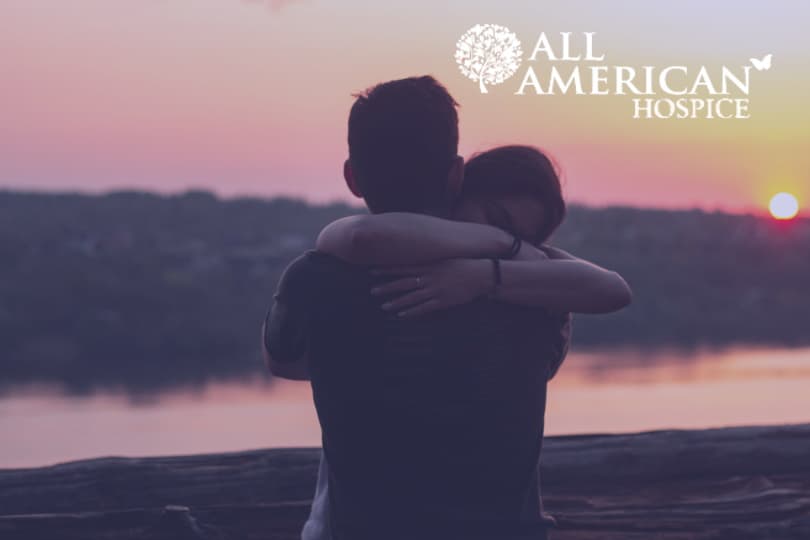 Saying goodbye can be difficult, especially when you know it's for the final time. Nobody really teaches you what to say when someone passes away. Mostly, this is because there is no easy formula regarding what to say to someone who is dying. Death is never an easy thing to have to deal with. You never get used to it, really, but having an idea of what to do or say will put you in a better spot when the time does come.You can't escape death. Nobody can. And we can't be expected to prepare for this on any normal day. But when we know it's coming? Or when the time has come and gone? A final farewell can be cathartic. It can provide closure for you and your loved one both, and in this article, we will seek to show you how to say goodbye to a dying friend or a dead loved one.
Let Us Start Taking Care of You
What Do You Say To Someone Who Is Dying?
Your final farewells to a loved one should be based on your own needs and those of your loved one. For example, you may require a sense of being heard and an emotional connection. You may want to talk about old times, good times. A person nearing death, on the other hand, may experience unpleasant feelings such as anxiety, uncertainty, or rage in response to their predicament.
The person you care about may respond in a way you weren't expecting, so plan ahead and be prepared to adapt. They may be more or less receptive to your farewell than you anticipate. If you're thinking about what to say to a dying person, here are some things to keep in mind:

As much as you can, be there for your loved one. Even if you don't say or do anything, just being there for them might mean a lot. The best present you can give someone is the gift of your time.
Share a good laugh. It's difficult to lose a loved one, but that doesn't mean you can't reminisce about the good times you had together.
If you have to say something, focus on a few key, emotional things. "I'm sorry," or, "I love you," go a long way, but many people want to be released of guilt. Forgive them. They will appreciate it.
Let Us Start Taking Care of You
How To Talk To Dead Loved Ones?
If you were unable to say your final goodbyes to a loved one before they passed away, the agony of their passing may be amplified severalfold. The lack of an emotional catharsis might cause you much guilt, but don't let it master you. To help you deal with your loss, here are some suggestions.

Find a secluded area with plenty of peace and quiet. Maybe in your own home, or at a spot that was significant to the person who has passed on. Bring a memento from your past to this place to serve as a reminder, a focus, of how they used to be. Make use of this opportunity to express yourself in whatever way you see fit.
Another way to deal with emotional or physical anguish is to write something down. In a letter, write what you wish you could have said when they were still here. Reread your writing later, when you are plagued by the sensation that you haven't said goodbye. You can also keep a journal to capture your thoughts and feelings about your deceased loved one.
Engage in conversation with other people. If you want to stay close to a loved one, talk about your recollections of them with others in your social circle or family. Talking about them keeps them close.
When a loved one dies, a ritual can help you heal and allow you to reflect on their life. Place flowers on their grave, release a biodegradable balloon with a message inside, or disperse their ashes in a special location. You can perform the rite by yourself or with a small group of close friends and family members who are close to you.
Recall pleasant times in your past. Listening to special music or creating a playlist, looking through old photos, watching a favorite TV show, or reading a particular book can all help you remember and feel near to a loved one who has passed away. To help you say goodbye, reminisce about the excellent times you had together.
How To Bear Bad News
Sometimes, against your will, you will have to be the bearer of bad news. Just because you know someone has passed on does not mean every other person in your social circle will. You will have to break the news to everyone who held them dear. How to say someone died in a nice way?
Using euphemisms or terminology that may be confusing to children or anyone who may have a hard time comprehending the news is especially important. When speaking, you should:

Try not to use euphemisms like, "they're in a better place now."
Don't make promises that you can't keep, or else you risk damaging their trust.
Keep the conversation on track: don't try to make awkward small talk.
Conclusion
Saying goodbye to a loved one who is dying or passed on will always be a challenge. Nothing in the world will prepare you for it, and you will have a hard time accepting it and moving on. But the memories will linger, and they will continue to give you reassurances that your loved one meant the world to you, and that loving them was worth it for the mark they left in your heart.
If your loved ones are suffering and you suspect that the end is near, please consider getting a home hospice service to ease their passing. Contact us today to know all about what we can do to help you out.