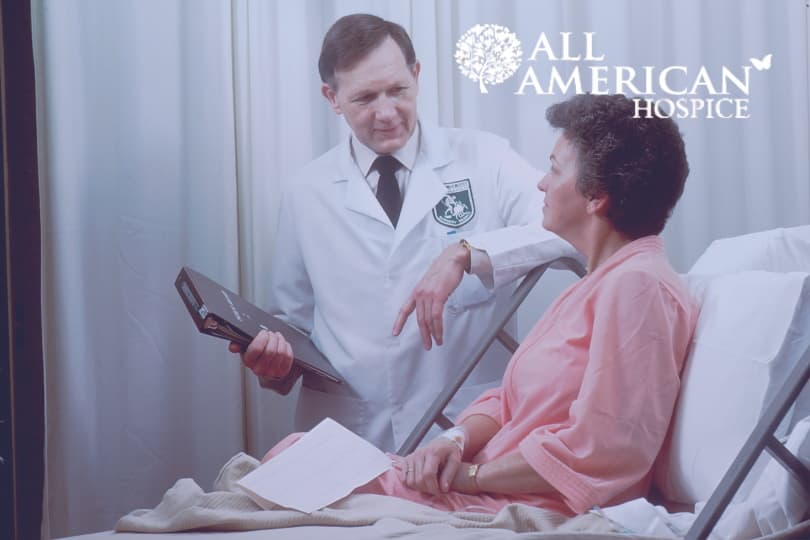 If a doctor has recommended hospice care for you or a loved one, you may wonder how long hospice care is. There isn't an exact response to this question because every patient's condition is unique.Hospice is sometimes misunderstood as a way to speed up the death of a loved one. The actual goal of hospice is to improve the quality of life for as long as possible. Hospice patients can also opt-out of hospice care if their health improves, and they can return to it at a later date if necessary.
The idea that hospice care is just for the terminally ill is another common misunderstanding. Hospice care can bring long-term relief from pain and provide support and comfort.   Hospice is best suited for people who are in their final months of life rather than their final days. The longer a loved one is on hospice, the more time they have left to enjoy.
Let Us Start Taking Care of You
How to Qualify for Hospice
To qualify for hospice, patients must meet the Medicare & Medicaid Services' eligibility requirements for hospice. The following hospice criteria can help assess if a patient's condition is or will soon be eligible for hospice care, even if no precise number of symptoms is required.
Hospice Diagnosis List
A prognosis of six months or fewer if the disease progresses normally qualifies a patient for hospice care
A history of frequent hospitalizations in the last six months
A steady decline in body weight
Increased fatigue, and drowsiness
Deterioration of mental and physical abilities
Daily living activities like eating, showering, dressing, toileting, walking, and continence are impaired
Declining brain abilities
Frequent Infections
Deterioration of the skin
Acute worsening of health
When to Call Hospice for Dementia
Five million people in the United States have dementia, while 15 million carers provide unpaid help to their loved ones with dementia. It is common for people with dementia to experience memory lapses, such as losing track of where they have put things or having difficulty recalling certain words or names. They are still capable of working independently, but planning and organizing will become increasingly difficult.
When a person is in the moderate/middle stage of dementia, they will need greater assistance. The individual begins to suffer from more acute memory loss and confusion throughout this period. They may be unable to recall names or be unsure of their current location. In this period, some people may have difficulty dressing properly for the weather. Sleep patterns and personality traits will shift. This stage lasts the longest, and it might last for several years at a time.
As dementia progresses, patients will need round-the-clock support with daily tasks. They become increasingly unable to communicate as they lose track of recent events and their immediate surroundings.
Families of people with dementia are sometimes confused when their loved one is eligible for hospice because of the gradual course of such disease. Hospice treatment does not require a specific number of symptoms in a patient. Please check the following hospice diagnosis of common symptoms to see whether your loved one is showing any of these signs, and then decide what the next step should be.
Hospice Diagnosis List
An indication of additional diseases such as COPD, congestive heart failure, cancer, or congenital heart disease
A rise in hospitalizations, doctor visits, and emergency room visits
Diagnosis of an infection such as pneumonia or sepsis
Weight loss or dehydration as a result of difficulties in drinking or eating
Speech is limited to no more than six words a day
Choking or having difficulty ingesting liquids or food
Incontinence of both urine and feces
Inability to sit erect without arm supports on chairs or the risk of slipping out of chairs requires customized chairs.
Incapable of walking on one's own without the aid of a walker or the use of a wheelchair
Incapable of standing without help
No longer being able to smile
Let Us Start Taking Care of You
Medicare Guidelines for Hospice Dementia
Dementia patients eligible for Medicare coverage receive annual wellness checkups as part of their preventative care plan.
If a person gets dementia, the coverage assists with the expenditures associated with the disease throughout its course. In the final months of life, hospice care is included in this plan's benefits.
Dementia patients eligible for Medicare hospice benefit must have a life expectancy of six months or less if the disease progresses at its normal rate of progression. When a patient's physical condition begins to deteriorate, hospice care may be an option to explore.
Medicare assists with services that a person diagnosed with dementia needs at each condition stage. An outline of Medicare's dementia coverage is provided in the following paragraphs.
Part A
The policy covers the first 100 days in a nursing home and hospice care.
Part B
Preventive services, including wellness checkups and medical tests, doctor visits, and equipment, are all covered.
Part D
Prescription medications are covered.
Medigap
Part A and Part B deductibles, copayments, and coinsurance are all covered to some extent.
If you have any doubts regarding hospice care, don't hesitate to contact us for a hospice consultation. At All American Hospice, our team of caregivers is ready to make your loved one more comfortable.